If Your Clicks And Conversions Dropped, You're Not Alone
Have your PPC Conversions been dropping recently? You're not alone. Over September and October, most businesses have suffered reductions in Clicks, Conversions and quality leads. Don't worry, I'll explain how you can bounce back.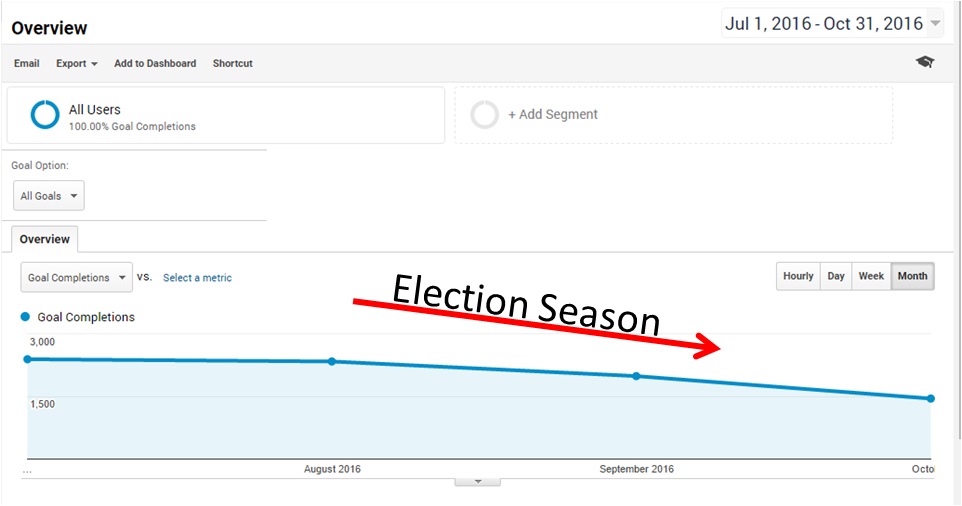 The main reason for reduced consumer responsiveness to PPC and online advertising has been their increased focus on the election: people spent more time browsing for information about Mrs. Clinton and, now, President-elect Trump. But it was more than that. One thing that proves irresistible to most people is sensational news. On Sunday, the BBC reported that many companies are making huge profits from creating fictitious news – fake news that is then tweeted and shared by millions via social media as fact. For example, over the weekend a video interview of President Obama by Gina Rodriguez was doctored to make Obama appear to be encouraging illegal aliens to vote. The video went viral, receiving millions shares and re-tweets on social media. This brought in significant advertising revenues for the businesses that fabricated the news. However, it also reinforced the common belief among consumers that you cannot trust the Internet – and wasted their time.
A recent study by IDG showed that consumers do not trust Internet companies with their information. Another study by the Pew Research Center demonstrated that most Americans don't trust what they read on the Internet. Google has already demonstrated that people are busy and that they have Moments when they want information. They want the information immediately, but they also want it to be truthful and relevant. They hate lies, they hate interruptions and they particularly hate irrelevancy. And the latter of these is your main opportunity.
While America gets back to business, so too do consumers. It's the holiday season and they've got a lot to catch up on. Therefore, you not only need to get your ads back in front of them, you need to make darn sure your ads are relevant. Relevancy largely correlates with Quality Score, but the closest correlation is with actual sales. The people who manage your online advertising tend to feel great when they see large or increasing numbers of Clicks, but these metrics are meaningless if they do not lead to sales. Worse, they can cause your brand to be associated with irrelevancy – promoting products to the wrong audiences.
So to win more business this holiday season, use analytics and the entire buying cycle to determine which of your keywords, ads, landing pages and offerings can be attributed to sales. If you're unsure of how to do this, watch our tutorial on Split Testing below. Or call us for help – we have a long track record of optimizing the campaigns of clients just like you. Our number is at the bottom of this page.
Make an appointment with the PPC Experts:
(972) 867-3100