Increase your SEO and Conversion Rates
By Neil Farquharson
After posting this blog last week we were inundated with calls from mid-to-large size plumbing, HVAC and heating contractors. They were looking for PPC experts in Google Analytics, SEO, better Conversion Rates and all things pay-per-click (PPC). One of the recurring questions we heard was "What have you achieved for other contractors already?" In real-time, we were able to log into Analytics to show verifiable results for contractors in their own geographic regions. However, such was the response that I thought I'd put some actual screenshots into a new blog. Below, you'll see I've hidden the names of the clients, however the data is 100% real. Let's start with a mid size heating company.

Above, you can see the increase in Clicks that this heating contractor has received in just a matter of days after beginning their PPC optimization program with PPC Rainmakers. The number of clicks has risen from 49 Clicks a day to 421 Clicks per day. That's a 759% increase in clicks.
Next, have a look at the Conversion Rates for a larger plumbing contractor.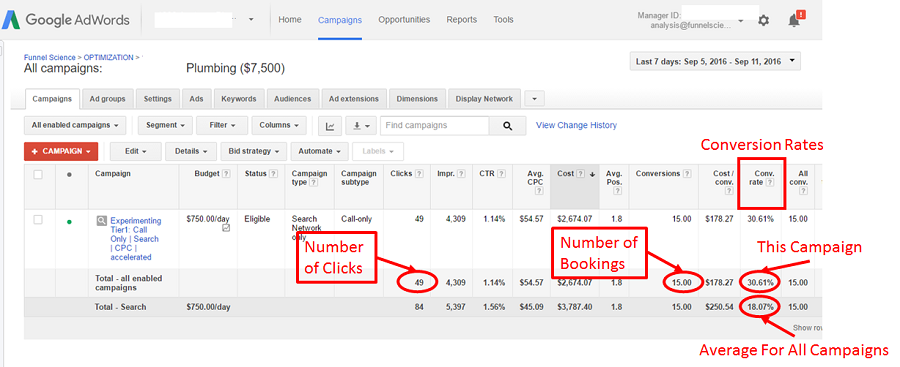 This is a campaign directed at getting customers to call and book a service visit. Look at the Conversion Rates to the right of the image. Of the 49 potential customers who clicked on the plumbing advertisement, 15 customers booked call-outs. That's an incredible 31% Conversion Rate. Also, note the percentage near the bottom right corner. That's the average Conversion Rate for every campaign this plumber has – 18%. This means that almost one person in five who clicks on any of this plumber's advertisements books a service visit. Wow!
Next up, here is a large, regional AC and heating company that is using Search Network All Features. All Features gives this client ad extensions that further raise the visibility and rankings of his PPC advertisements.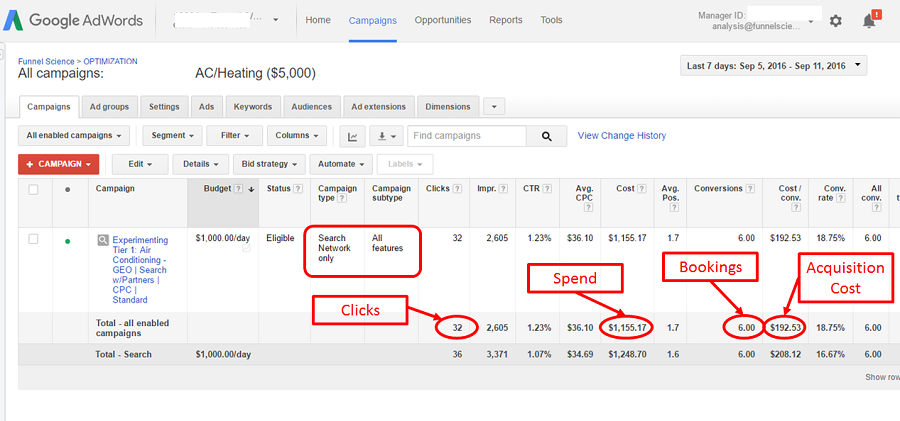 Look at the customer acquisition cost here. For a per-campaign spend of only $1,155, our client got 32 Clicks, that turned into six major purchases. This works out at less than $200 per customer acquisition. Wouldn't your company love to have an acquisition cost as low as this?
If you are a mid-to-large size plumbing, HVAC or heating contractor spending $10,000 or more per month in advertising, we guarantee to get you more quality leads, increased sales and greater profit margins.
Read more here.
Make an appointment with the PPC Experts:
(972) 867-3100