Choose a Premier Google Partner with Experts in Bing Ads, Facebook Ads, YouTube and More
By Neil Farquharson
When you do a web search on Google Partner, or Bing Ads – or on AdWords, or PPC Expert – your search will return hundreds of agencies all claiming to have super powers. So how can you tell the wheat from the chaff?
An easy-to-spot differentiator is whether or not the agency is a Premier Google Partner. A bit less obvious is determining if the agency's claimed experts in Facebook Ads, Amazon AAP, and so on, are actually experts. However, there is one surefire way of separating the men from the boys, and that is by asking for evidence of competency. Here at PPC Rainmakers, we have years' worth of actual evidence, as recorded by the PPC platforms themselves. Take for example this real result I pulled from Google Analytics today. It shows a business to business (B2B) client we've been supporting for a little over a year.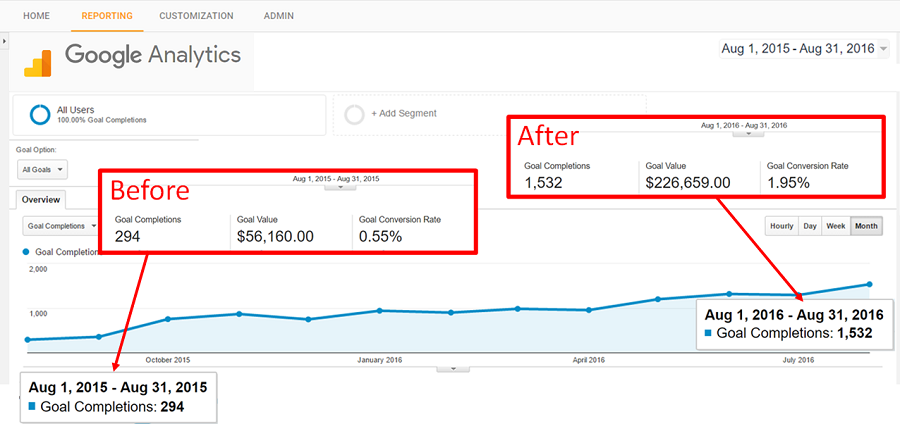 The composite screenshot compares the difference in PPC advertising performance between August 2015 and August 2016. Notice that not only have goal completions multiplied by more than five, but also the Conversion Rate (forms filled, customer inbound phone calls, or purchases made) has increased almost fourfold. One of the great advantages of using Google Analytics is that we can access Google's independent platform to show you results in real-time. Thus, we can prove our effectiveness.
Here is another example, this time a business to consumer (B2C) client.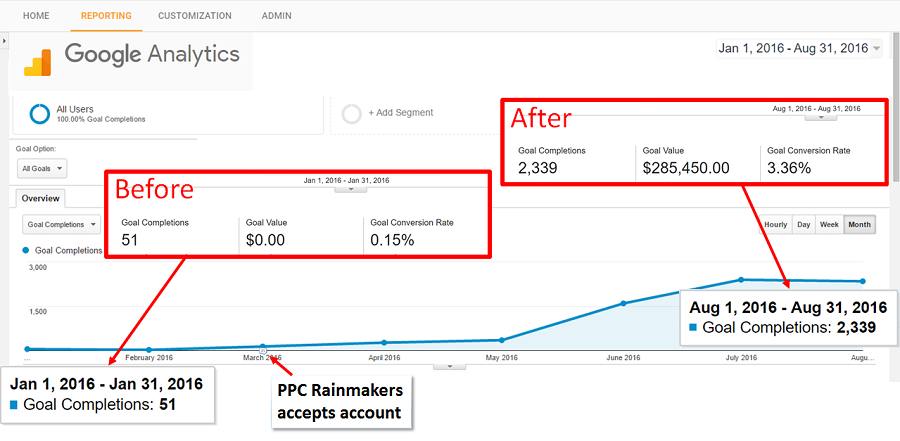 In this example, the client had a profitable business, but had not been effective in using PPC online advertising. PPC Rainmakers took over the management of the account in early March of this year. During the following six months, and continuing today, the Conversion Rate rocketed from 0.15% to 3.35% and brought in new revenues measured in hundreds of thousands of dollars per month.
These are the normal kind of results that PPC Rainmakers achieves for its clients every week, every month and year on year. If you are spending $10,000 or more per month on PPC marketing, we will help you increase your revenues and margins dramatically.
Call us to set up an appointment with one of our experts in PPC advertising:
(972) 867-3100