From 200 leads per month with AdWords PPC to 2,000 leads per month
"We love this kind of challenge," our PPC Expert Alex said, and then demonstrated how our team could dramatically increase their leads. Within six months, her business was getting 2,000 leads per month. If you'll let us, we'll do something similar for your business.
When AdWords PPC clients come to us, they've usually tried several other agencies already. The other agencies usually tie themselves in knots trying to maximize clicks or by adjusting bids to improve ad position in Search. More clicks mean more expense for you but not necessarily more leads because fumbling around with bids alone is an ineffective way of improving ranking. No wonder these agencies fail to deliver.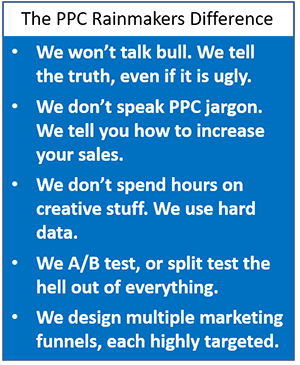 At PPC Rainmakers, we think like you do:  Pay-Per-Click advertising should make you money. It's a tool to get more leads and should improve your business ROI. You expect your advertising to make more profits than you spend on it, and we feel the same way.
Our founder, Alex Fender, was once in your shoes and has fired many SEO companies from his previous business. He has run businesses that used Google Ads to get more leads and spent more than $80,000 in a single month with Google Ads. But, the marketing agencies he would hire would promise the world then under-deliver. They were great at writing creative ads, but these ads did not address the problems and desires of potential customers. This is why, back in 2011, he decided to found his own agency – an agency that delivers what it promises. That is when PPC Rainmakers started.
We do it differently. We generate more leads by testing your target market scientifically. This means A/B testing the hell out of your keywords, your ads, your web landing pages, and even the customer experience of making an online purchase or calling your sales team.
It is all about identifying the bottlenecks in your sales funnels. We focus on remedying the marketing so that the needs, the motivators, and the pain points that relate to your customer's unique situation are addressed. By collecting data from your Google Ads campaigns, Google Analytics, and Sales CRM, we can create PPC campaigns that generate lots of leads. We profile your customers and group them together based on behaviors, demographics, and psychographics. We then refine the specific marketing messages that motivate customer purchasing actions.
We don't just create one ad- we create groups of ads, using groups of keywords, pointing to relevant web pages all specifically targeted at just one of your customer groups. Then, we do it for your next group, and then the next. Here is the graph for the business owner we mentioned previously who went from 200 to 2000 monthly leads. In only six months, we increased her sales leads dramatically.
When we use our data-driven, analytics-driven system, we get you more leads- period. We can do this for you. Why not call us?
Make an appointment with the PPC Rainmakers experts:
(972) 867-3100