A team that does whatever it takes to make you successful.
Leading Adwords Expert and Chief Rainmaker.  Alex and team have been invited by Google to compete 2012, 2013, 2014 and 2015 Google Engage All-Stars competition – we won 4 years in a row!
Alex has been intrigued by the internet since the days we used to boot up with AOL CD's they would send in the mail. He created his first website in the 8th grade, his first database in the 10th grade, and developed and his Marine Corps unit's training database at 19 years old. Alex graduated Cum Laude with a BS in Management/Management Information Systems from Columbia College and is MS candidate for Predictive Analytics at Northwestern University.
In 2001 was cutting his teeth on Ebay business, by 26 had a national debt consolidation company. In 2013 Alex was awarded Veteran Entrepreneur of the Year at the Federal Reserve Bank in Dallas. With 15 years of marketing and sales experience, Alex is the Chief Rainmaker.
When Alex isn't keeping up with the steady evolution of AdWords and Analytics, you may find him training dogs, smoking BBQ, country western or ballroom dancing, restoring his 1969 Mach 1, mudding in the H1 (HMWVV), writing grad school papers or trying to find a way to optimize results with predictive machine learning.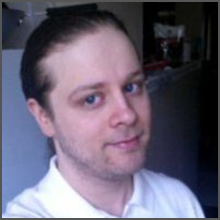 DANE KUIPER
Rainmaker with code – PhD Computer Science – BI/Analytics
Dane has a PhD in Computer Science, is an expert in analytics and artificial intelligence. Using these skills, Dane is responsible for coding our predictive analytics scripts, CRM and other marketing automation tools. He enjoys using technology to improve business processes. If you need a software-based solution, Dane has the know-how to help you!
If you need help making AdWords PPC predictive, our team can help you develop custom code and Adwords scripting to eliminate human error, increase conversions, and drive sales.
We Will Bring The Rain & Together Make It Pour!