The ECommerce Death Message From Google


Your Merchant Center Account Has Been Suspended
Google Shopping gives your brand the power to be everywhere your shoppers are. Through Shopping PLA product listing campaigns, millions of shoppers can see your online and in-store inventory every hour!
When you get the account suspension message, you have roughly 2 weeks to resolve the issue before your account will be suspended. Ignoring the issue will only make matters worse. Try to work directly with Google as quickly as possible, because they will cut off support and communications once your company has been suspended.
The best route to take is to contact a Google Premier Partner because we have a direct line of communication with Google, and we are experts at remedying suspensions swiftly and effectively, like with this client here:

If Google has stopped communicating with you and you need to fix the suspension ASAP, then we have Google Certified Consultants that can help! This is rarely a cheap-and-simple fix when it gets to the point that Google has cut you off. The quickest way to resolve the suspension is by working with one of our Google Certified consultants who specializes in eCommerce suspensions.
Our company is a Google Premier Partner, which means we have direct support by Google- we even have direct numbers and emails to contact Google staff who can help fix the suspension. Typically, turnaround time to resolve a Google Suspension is less than 10 days.
Why Merchant Center  Accounts Get Suspended
Google states: "We want everyone to have a safe and positive experience when visiting Google and our partner sites. To help make that a reality, we've developed a set of policies that we expect merchants to follow. When merchants don't follow these policies, we might disapprove their product listings to let them know that something's not right. When advertisers continue to break the rules or break the rules egregiously, then we may have to suspend those accounts."
This is What A Merchant Center Account looks like prior to a suspension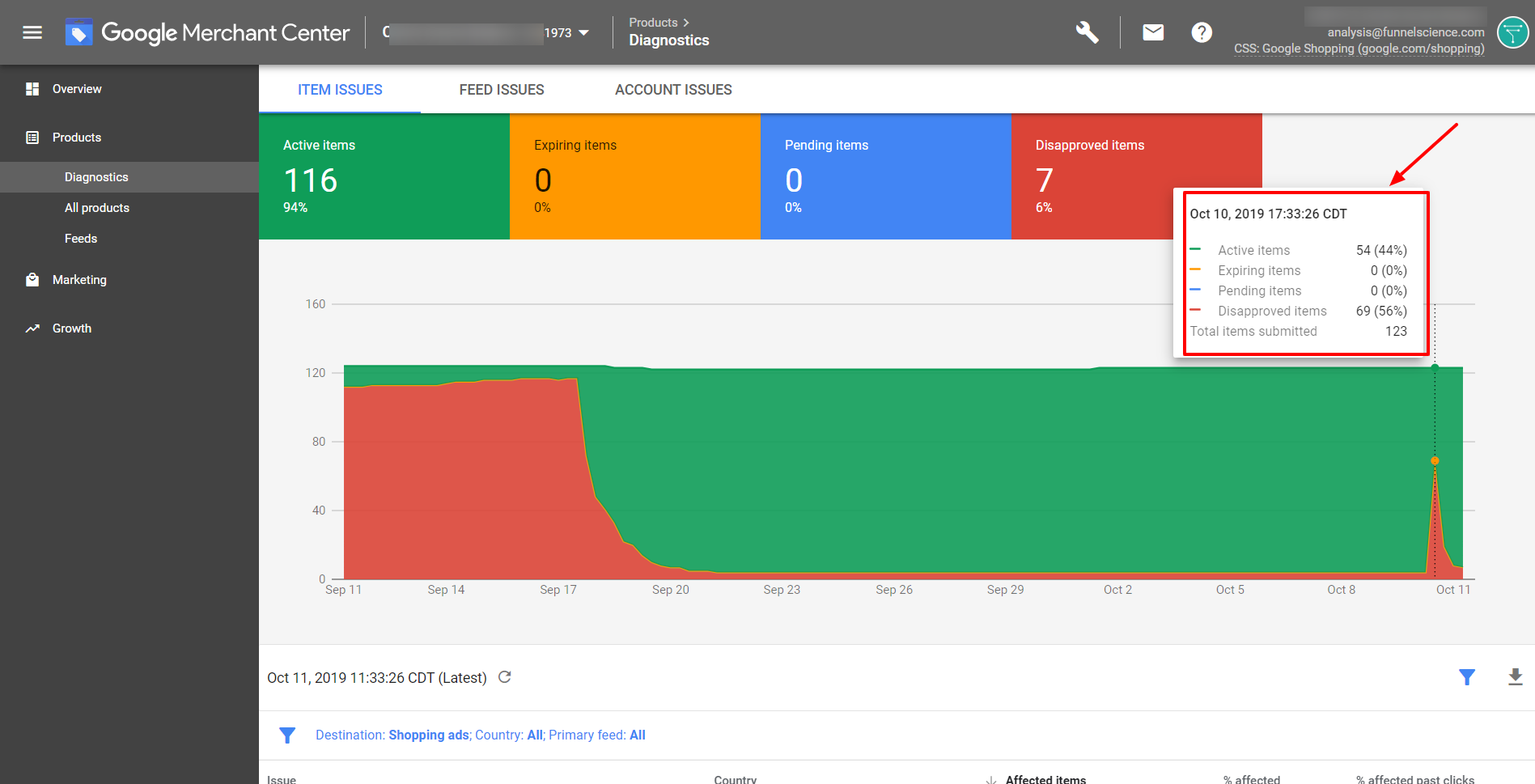 If you have data quality issues greater than 8%, your account is most likely to get suspended. If you see swings of product disapproved items, you need to take immediate action. If you do not fix the quality issues in the product feed, your account has so many days to fix before you will get suspended. If you notice that your products are approved, then disapproved, again over and over, your company is most likely experience a manual review from one of the policy teams at Google. The policy analyst is going to check most if not every page on your website and actively looking for issues with you account, products, data, and policies. If they find an issue, they will suspend your Merchant Center Account and your Google Ads account many times without prior notice.
When Suspended, Google Sends this Message
"It has come to our attention that your Merchant Center account (Packaging XXXX, ID: 100XXXXXX) does not comply with our Google Shopping Policies available at http://www.google.com/merchants/policies.html
Your Merchant Center account has been suspended and your product listings no longer appear on Google Shopping. Please note that a suspension notification message is also displayed in your Merchant Center account. In addition, related Merchant Center accounts might also get suspended.
If you believe there has been an error, we want to help. Find out how to contact us by visiting https://support.google.com/merchants/?rd=1#topic=3404818&contact=1.
Sincerely,
The Google Shopping Team"
Need to resolve an account suspension?

Try these steps first:
Ensure your site meets
all

requirements

Before you upload your product feed, you must ensure your site offers a safe and user-friendly experience by meeting a few requirements. We have a set of policies that outline these basic, but important, site-level requirements for all merchant sites.

We check every merchant's site for a few basic requirements:

This is often how and where we find the problem, and then fix the suspension. Most of the time, eCommerce sites get suspended for updates made by the webmaster or shopping cart software. Other common reasons for suspension have to do with your products or product feed.
Still can't find the problem?
For a

Confidential Consultation

call us at (972) 867-3100
to speak with a Google Expert who specializes in suspensions.
The cost for the initial consult will be $1000.00
Then call us for help with Google Merchant Center Account Suspensions
Shopping and PLA campaigns generate sales and higher-than-average conversion rates; but when your site gets suspended everything changes. After suspension, you see an immediate drop in impressions, clicks to your ecommerce site, as well as a huge decrease in online transactions. Trying to trouble-shoot this process can be confusing without expert guidance. Google sends you their policy notice, but that does not help much in pinpointing what led to the suspension. There are 2 primary reasons eCommerce sites get suspended: 1) poor infrastructure which causes a data feed issue, 2) Actually violating one of the policies.
Resolving these issues are rarely cheap-and-easy fixes that happen overnight. The quickest way to resolve the issue is by working with a Google Certified consultant who works at a Google Certified Partner agency. Google Certified Partners are given direct support by Google. Typically, turnaround time for a Google Suspension is less than 10 days, but it varies case-by-case. When the brand attempts to resolve the issue themselves, we have seen it take more than 60 days to lift the suspension. However, working with Google Certified Partner agency can greatly reduce the time it takes to resolve the suspension.
Please note, if you have been banned/blacklisted- there is nothing you can do. You will never get your current business back on Google Ads, Shopping or Youtube ad networks. Google even bans individuals and has the ability to associate webmasters or business partners with your URL, which also causes suspensions.
Recently, we had an eCommerce client that had been suspended by Google Shopping for more than 2 years. The business owner was frustrated but there was nothing he could do. In less than 5 days working with one of our Google PPC Specialists, the suspension was lifted and the Shopping PLA campaigns were back on!
If you need additional help, visit Merchant Center Help & Support Resources