Here is what you need to know to fix a Google Suspension for Misrepresentation
Dealing With Google Suspensions for Misrepresentation is a Challenge
I share this information after dealing with Google on hundreds of suspension cases since 2001. In Google's eyes violating policy's and getting suspended to the highest level is a big deal. It will be a challenge to resolve a misrepresentation issue however, they can be fixed if you deal with the issues one by one correctly.
This is not a common suspension and I would estimate less than 0.01% of companies face this type of suspension. It is much more common for an e-commerce business with Google Merchant center compared to other types of businesses.
Misrepresentation Policy issues are hard to fix because Google will not disclose or help explain how to fix the problem. Google has a specific Policy Team that you will never be able to speak with that handles all of the cases for Google Ads, Google Merchant Center and Google My Business.  Google employees called "Googlers" are not allowed to help you circumvent their policies so they will not be very helpful.
Dealing with suspensions for Misrepresentation are often difficult because you may have to update 1 to 10 things on your website and business info before the suspension is lifted. To get it lifted, you have to go through the appeals process. Most businesses try to do the appeals process the DIY method and only end up making matters more difficult to solve in the long run. When you are unsuccessful on your first appeals attempt, the second time around will typically be longer.
Here are the top things you you need to know to get a suspension fixed
First, Google will not help you and you have to figure it out on your own. You may think you are Google's customer, but as an advertiser, Google doesn't really care. Google cares most about a safe environment for the end user the person who search on Google. If your business in anyway is deceptive, doesn't follow policy, or selling anything that could be misrepresented by the average person, you will get suspended.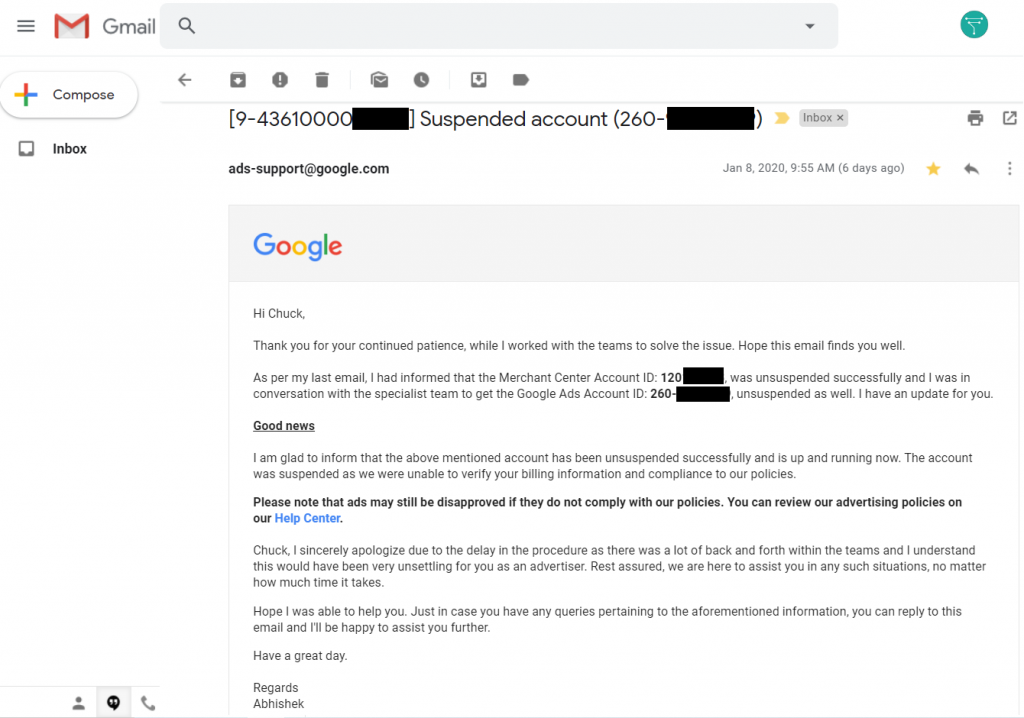 There are 3 types of suspensions Administrative, Policy, and Banned/Blacklisted.
Administrative and Policy suspensions can typically be resolved. You can try to figure out what you did wrong and guess at solving or work with experts that have fixed Google suspensions for years. Most businesses that get suspended by Google for Misrepresentation never get their Ads turned back on. I have spoken with many company who tried 6 months to 2 years and never successful turned their ads back on.
Businesses get their website and business Suspended on Google Ads Search and Google Shopping ads from Google Merchant Center. Many businesses rely on Google PPC for sales and is proven to rapidly grow online sales. Startup's and long time established companies with Google can get hit. Sometimes I hear how the competition is doing the exact same thing, and yet their ads are still on. Suspensions are complicated and best dealt with someone with direct access to Google support.
Time Frame to Fix Misrepresentation Suspension
For a misrepresentation of policy, in 2020 it is taking Google 6 to 12 weeks to resolve this level of suspension. Normally they delay or are very slow to reply and repeated respond back they need more time.
Common reasons for misrepresentation policy violations:
Misleading content
Content that directly violates polices
Business practices
Website/Code compliance issues
Untrustworthy Promotions
Linked Accounts/Business Associates
Not Addressing Issues
Low Data Quality Score
Data mining/collecting personal info
If we take on your suspension case, we have 99% confidence we can fix the suspension
Step 1 – An assessment to include a review of all emails and notifications that Google sent to your organization. From the emails and notices within your account, often you will be sent some links to policy pages. Assessment of the various polices your business is facing by linking to your Google Ads Platform within Google Ads, Google Merchant Center, any past accounts including others businesses, Google Analytics, Google Search Console,  to try and get a better understanding of what you are dealing with.
For a

Confidential Consultation

call us at (972) 867-3100
to speak with a Google Expert who specializes in suspensions.
The cost for the initial consult will be $1000.00